Meditation group sit and other activities
Please see our calendar for all updated activities.
Every Saturday:
Registration not required, just show up!
16.00 Sutta Study Class (alternating Saturdays in French or English)
17.30 Tea with the monastics
18.00 Dhamma reflection and meditation
19.15 End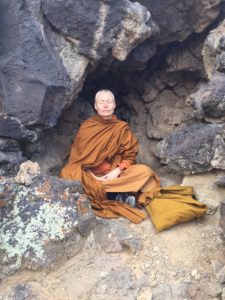 Staying
Tilorien Monastery offers lay Buddhists the opportunity to spend some time in a monastic setting. If you come for the first time, you may stay up to one week.
If you don't want to stay overnight but only wish to come for a day visit please send us a message.
We ask ordained Sangha members to contact us by email first before applying if you would like to stay longer than a week.
All visitors follow the eight precepts as outlined in the orientation notes, and agree to help out with the work (household, cooking, gardening, driving, etc.) of the monastery. We are not a retreat center and don't offer full retreats for lay Buddhists.
Our monastery focuses on individual Dhamma and meditation practise. Anyone applying for a stay needs to be comfortable to spend large portions of the day in solitude and silence, and should be a self-motivated meditator with a stable practice.
Before applying, please check the availability of space in our calendar. If you do not want to stay at the monastery, you can look for accommodation closeby. The campsite now also offers travellers-huts (Ovals) if you do not want to camp. You can also stay in the B&B next to the monastery: https://www.lerefugedengreux.be/fr/ (French) or https://www.lerefugedengreux.be/nl/ (Dutch)
Meal ceremony
Tilorien is open for visitors every day from 10am – 1pm for the meal (dana) cermony. If you would like to come and offer dana, you can book a day in our dana calendar. After the meal, there is an opportunity to speak with the monastics about your practise and / or Dhamma-related matters. Please let us know if you are planning to visit at least two days in advance, otherwise we might not be around.
Kathina day 2019